SKY BLUES TO REUNITE
BY JENNIFER EPEL
Friday, May 2, 2003
Sky Blues haven't toured in more than five years, but their music is still in their blood. After the band broke up in 1997, its members cultivated separate careers and lives, but when they played together again in 2002, their hard, guitar-driven rock songs felt warm and familiar, a happy reminder of how much they loved music.
"It was like putting on an old shoe," said guitarist/bassist Jon Rubin. Jon and his brother Cliff Rubin, also a guitarist and bassist, along with singer Marc Ian Keslow and drummer Greg de Sousa, are all from Scarsdale and have been playing together ever since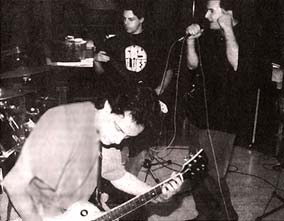 Sky Blues rehearse for their upcoming show. (Paula Markowitz Wittlin Photo)

Jon Rubin, Keslow and de Sousa were sophomores at Scarsdale High School in 1989. They went from performing at the SHS Jabberfest to touring all over the country, developing a wide-reaching fan base and releasing a total of five albums before their breakup. They started practicing again in anticipation of a one-night-only reunion performance where their old fans will again get to hear their beloved favorites, Saturday, May 10, at 11 p.m. at the Lion's Den in New York City.

The foursome got the idea for the reunion show when they were together at Keslow's spring 2001 wedding at the World Trade Center. Later that year, when tragedy befell, the band's plans were postponed indefinitely - "until we felt the time was right," Jon said. When the time was right, they returned to their rehearsal space and recording studio in the Rubins' parents' basement, where the band began. The room is adorned with rock posters, music magazines, recording equipment. A doll of a member of heavy-metal band Kiss sits on a table and a big Sky Blues banner hangs behind the drum set, but a door with a wooden sign reading "sauna" reminds you you're in Heathcote.

Sky Blues' local roots are undeniable. Jon had known Keslow and de Sousa since elementary school. By high school, Jon was known as a great guitarist who had played in bands since junior high, and he was in a band with de Sousa and another friend, but they had no singer. They wanted to take on a singer to perform with them at the 1989 Jabberfest, and although Keslow had never sung anywhere but the shower, Jon convinced him to sing with his band.

The performance worked out better than expected. "We realized we had a singer!" Jon said. Then Cliff, who had already graduated from N.Y.U. film school, began playing with them and eventually replaced the other guitarist.

"At this point we were just a bunch of kids playing around," Cliff said. They played only cover songs at first, but soon they had written a couple of original songs, and then the band became less of a high-school enterprise and more of a serious one.

"They were horrible original songs, but they were original," Jon said. Keslow added, "We were young and had delusions of grandeur. We thought because we listened to the songs on our Walkmen, they would be No. 1." But when they had enough original songs,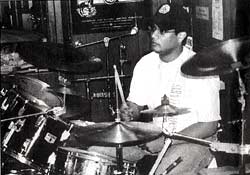 Scarsdale firefighter Greg de Sousa at rehearsal this week.
(Paula Markowitz Wittlin Photo)

they recorded their first album.

"We recorded it on our own equipment. That was the ambitious part," Cliff said. Now the basement boasts a studio complete with a recording booth and the band recorded all their albums there.

"It was absolutely the coolest for us - our own cassette," Keslow said. They copied the tapes themselves, xeroxed the tape covers and cut them by hand with scissors. "We sold them at our lockers," Jon said.

By the time the high-schoolers were graduating in 1991, the band had recorded the second album and were playing in Westchester clubs. "The time of the second album was when we started to get a response from people outside our circle," Cliff said. The film-school graduate was shopping a film around Hollywood, but it was going nowhere. But the band was flourishing, so he decided to devote himself more completely to it. The others also decided to make the band the center of their lives. "We decided it was something we wanted to do beyond college," Keslow said.

Even though three-quarters of the band was leaving for college in disparate parts of the country - Keslow to the University of Rhode Island, Jon Rubin to American University and de Sousa to Notre Dame - they were determined to make it work. Every spring break, winter break and summer vacation, they came back home. In 1992, the summer after their first year in college, the band released its third album - its first on CD. Not only had recording technology gotten more advanced, but so had the band. "There was a clear difference in the songwriting quality and performing quality," Keslow said. "But there was no sign that we'd hit our peak, so it was just more fuel to keep going."

At times when school was in session and the band members were apart, each of them independently mused on ideas and wrote songs that they showed to the group when they next reconvened. And since they were all in different places, the band built followings in Washington, D.C., Indiana and Rhode Island. "At Notre Dame, there were 300 people who knew our songs lined up to see us," Jon said. They also played gigs in other cities across the country. "We had a great group of friends from Scarsdale who would get us gigs at their schools."

In some cities, they'd play to almost-empty clubs, but some of those shows were their best. "It's not necessarily the number of people watching you. It there are 10 people and eight out of 10 come up to you after and say 'I love you,' that's different from a huge crowd," Keslow said.

After college, the band was a full-time job. Each of its members worked a flexible, part-time job that allowed time off to tour. Every penny they earned through touring was put back into the band and paid for a touring van, among other things. "There'd be times that we'd be here, playing, and somebody in Indiana would call and say they had a spot for us that night. We'd get in the van and drive for 12 hours and play a three-hour set. It made sense," Keslow said. Financial sense, that is - a show at a fraternity could get them $2,500.

Playing well-known clubs in cities earned them very little money - "you'd think it was great when you'd get beer AND food," Keslow said - but it was the colleges and Greek organizations, with their preset budgets, that brought in the real money. "We molded ourselves into the kind of band that did well with college scenes," Cliff said. Even though their brand of straightforward guitar rock was different from the funky, danceable music that kids at college parties were used to hearing, the kids grew to like it.

"We always brought in lights and a big stage," Cliff said. They'd hire local sound and lighting people to create a spectacular show, never hesitating to sink the band's money into such expenses. "In the Midwest, a kid came up to me and said, 'This isn't a party; it's a concert,'" Cliff said. It was what he'd been waiting to hear.

The band always made sure to play regularly in New York and keep in touch with its original fans. The last gig they played was at the Lion's Den, where their reunion show will be. "They remembered [the last show] and said, 'You can have any slot you want,"' Keslow said.

Sky Blues broke up because the guys realized they weren't as passionate about the lifestyle as they once had been. "There's a point where you're putting more in than you're getting back. You can't go sleep on the floor of a fraternity if you don't have the passion for it," Cliff said.

"If you want to be a full-time musician, you have to be 110 percent," Keslow said. "If you're 80 or 90 percent, you're not going to get where you want to be, because there's too much competition."

Meanwhile, despite appearing on MTV, selling their albums in stores and enjoying critical acclaim, Sky Blues didn't get signed. And its younger members, hitting their mid-twenties, were seeing their peers begin to excel in careers and move on in their adult lives, and they wanted a part of that.

After designing the band's Web site, Cliff got into Web design and now is a full-time, self-employed Web designer. Jon started giving guitar lessons and then, in the dot-com boom, got a job writing for a music Web site that, he said, "never even launched" - it folded after a year. But he parlayed his experience there into a producer job at VH-1, where he still works. His show "Do It Like a Superstar" premiered last week.

Keslow works in a family business providing broadcast equipment for TV, including ESPN and the show "Who Wants to be a Millionaire?" And de Sousa, after a three-year stint as a financial analyst, is now a firefighter with the Scarsdale Fire Department and spent a lot of time working at ground zero after the Sept. 11 attack. It was a difficult experience, but when he returned to the band, his bandmates said he brought with him an extra intensity. The band also wrote one new song, a Sept. 11-inspired one called "I Wish," which they will play May 10.

Will the reunion extend beyond their concert? "Right now, May 10 is as far as we're looking," Cliff said. But getting back together is always a possibility, even though all four are as passionate about their careers as they were about Sky Blues. "When music comes back in, it gives [everything else] a run for its money," Jon said.

Sky Blues will be playing at the Lion's Den, 214 Sullivan St., between Bleecker and W. Third St. in New York City' Saturday, May 10 at 11 p.m. Admission is $10 before 11 p.m. and $12 after. Ordering tickets in advance is strongly recommended, either by calling 1-800-594-TIXX or ordering via the band's Web site, www.skyblues.com.