REUNION SHOW
SET LIST
• PEEPING TOM
• THE LAST PAGE
• CHILD STAR
• RING AROUND THE MOON
• REVOLUTION
• HORIZON LIGHTS
• 5 A.M.
• ANOTHER DAY, ANOTHER DOLLAR
• I WISH
• TELL YOU EVERYTHING
• WINTER DAY
• HOW MANY MORE TIMES
----------
• LIBERATION DAY
• GIVE A LITTLE BIT
• TIMELINE
SKY BLUES REUNION SHOW:
THANK YOU FROM THE BAND!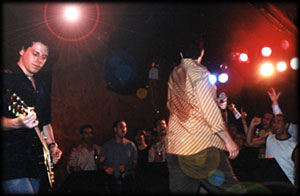 Sky Blues thanks you! The reunion show was a big success and we appreciate all who were there, packing the Lion's Den. We want to hear your thoughts on our message board. And check out:
• Photos from the show
• A video clip of the end of the show, filmed by our friend Mark the Harper (RealOne Player required)
• Post-show diary entries from all the band members
• The major feature on the show from our old hometown paper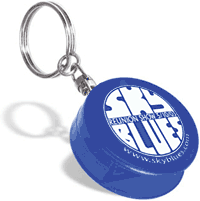 To commemorate the evening, we made special CD-Opener Keychains for everyone in attendance. If you didn't get one, want another, or couldn't make it to the show, you can get one at no cost by sending a self-addressed, stamped envelope to SKY BLUES Keychain, P.O. Box 308-H, Scarsdale NY 10583.
Special thanks need to go to Howie, Mike, Brian and Bob at the Lion's Den for all their hard work; Rich Serpa of Planet Rapture Productions for running our show so smoothly; our friends November Factory for opening the show; Mason Goldberg for his work behind the lighting board; and of course, all those who attended.
Enter your email address in the box below to be added to our email list and receive all the latest Sky Blues updates.