click on any album cover for more information...
IN TIME

The acclaimed newest CD from Sky Blues!
12 songs, including "Winter Day," "Peeping Tom," "Another Day, Another Dollar," and much more! (1997)

EXTENDED PLAY

6 songs, featuring "Tell You Everything," "Ring Around the Moon," and a sizzling new version of the Supertramp classic "Give a Little Bit." (1995)

RESURRECTION OF THE WARLOCK:
A Tribute to T. Rex

With Sky Blues, The Smithereens, Dramarama, members of The Mekons, and many others. (NMG/Pavement Records, 1998)
---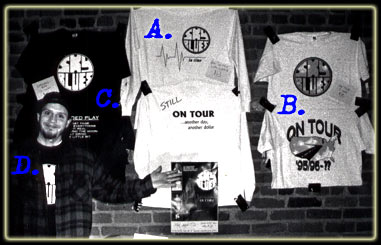 A.
Style #1
"In Time"
Long-sleeve, album art on front, "Still on tour... Another day, another dollar" on back. 2 color print, available in WHITE (XL) or BLACK (L, XL, XXL) shirts.
B.
Style #2
"On Tour"
Sky Blues cloud logo on front. On Tour/United States graphic on back. Full-color print on gray t-shirt. (XL only)
C.
Style #3
"Extended Play"
Sky Blues logo on front, "Extended Play" song titles on back. Black t-shirt. (XL) SORRY, SOLD OUT!
D.
Roadie Mace Sanders
NOT FOR SALE
SPECIAL: "IN TIME" CD AND ANY T-SHIRT FOR ONLY $12!
FREE SKY BLUES 11"x17" COLOR "IN TIME" POSTER WITH EACH ORDER!
A GUARANTEE...SKY BLUES will rock you...
...If you don't agree, return your purchase and you'll get your money back!
(orders filled while supplies last. International shipments add $5.00 US. Allow 2-4 weeks for delivery.)