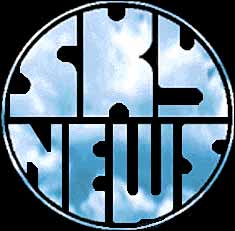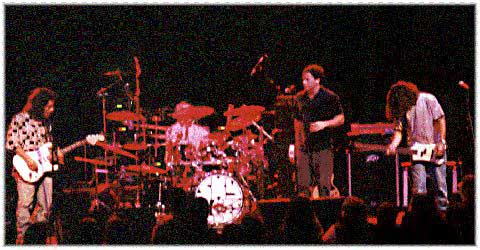 Photo by Andrew and Christopher Allin, all rights reserved.
*IMPORTANT ANNOUNCEMENT*
By now you've all heard the news that SKY BLUES has undergone some changes in its line-up. This is obviously a major development, and has left us with a big decision -- do we continue as SKY BLUES or change our name? Most bands go through many such member changes in their careers, but this is significant for us because we have always been the same four guys, back from the very first time we stood on our High School stage those many years ago, all the way through recent heights we never guessed we would reach. It is for this reason that we have decided, out of respect for the line-up that SKY BLUES always was, to not continue under that name.

But that does NOT mean we aren't continuing! Jon and Cliff Rubin are very proud and excited to bring you OMEGA BABY. Visit the OMEGA BABY website to check out archived news, songs in Real Audio, band photos, and more.

Of course, skyblues.com will continue; there are still going developments regarding Sky Blues, with which the site will be updated as news comes in. Sky Blues Merchandise will continue to be stocked in stores, and available at new lower prices through this site, and now also at Amazon.Com.

Once again, we thank you for your continued interest and support in our music!

You can click here to read personal letters from
Marc Keslow and Greg de Sousa
regarding their thoughts and futures in regard to the changes within the band.

SKY BLUES GOES HOLLYWOOD!!
SKY BLUES will be heard on the soundtrack to a new independent film entitled "CRIMSON LIGHTS." This Base Films production, a spoof of MTV's reality programming, has just finished principal photography and is currently in the post-production phase. The SKY BLUES tracks "WINTER DAY" and "SKELETON" will be featured in scenes in the film, which should hit art-houses and film festivals later this year. We will keep you posted on its release!


NMG/PAVEMENT RECORDS RE-RELEASES
THE T.REX TRIBUTE!
| | |
| --- | --- |
| the album's new cover art | RESURRECTION OF THE WARLOCK: A TRIBUTE TO MARC BOLAN AND T. REX, the 20-song tribute to the late British rock legend, has just been re-released by NMG / PAVEMENT RECORDS, and finally will be receiving full national distribution. SKY BLUES performs the track "CHARIOT CHOOGLE," a song originally found on the classic 1972 T. REX album THE SLIDER. On the tribute, SKY BLUES is in the esteemed company of artists like The Smithereens, Dramarama, members of The Mekons, and many others. In addition, we are honored that we were chosen to be the opening track on the CD, and picked by the label as a suggested radio cut. Whether a fan of SKY BLUES or T. REX, this is a must-have disc. Check your local record store, and for a preview of "CHARIOT CHOOGLE" click to the MUSIC page. |


Those of you in the Boston area should check out the April issue of SOUNDCHECK Magazine. There's a very good review of IN TIME on page 14, the first page of the magazine's "Amplifier" record review section. Thanks to SOUNDCHECK for the kind words, which you can also read right here on our clippings page.

RECENTLY RELEASED!
"MALIGNANT PIZZA," the MORE SUGAR MAGAZINE compilation CD, showcases those bands that the New York/Tri-State-area entertainment monthly has picked as the region's best. SKY BLUES (the track is "WINTER DAY") can be heard in a featured slot on this release, along with interesting and diverse artists including GREAT RED SHARK,INSULT II INJURY, BONE TAXI and original AEROSMITH member RAY TABANO. The disc's title was chosen because, according to More Sugar publisher Brian O'Rourke, "it's like a pizza with everything on it -- all styles and flavors." The CD is now available by sending a check or money order for only $5 per copy to More Sugar, P. O. Box 744, Yonkers, NY 10704. Also click here to read MORE SUGAR's review of "IN TIME" on our clippings page.


Thanks to everyone at MusicScape, a website devoted to up-and-coming bands, music news, and more, for making SKY BLUES a recent "FEATURED INDIE ARTIST OF THE MONTH." This new web newsletter reviewed both SKY BLUES CDs in recent issues and rated them each an 'A.' Both of these reviews can be read on our clippings page.


SKY BLUES is excited to announce our participation in an interesting new concept in web music marketing. You can now find us at SUPERSONIC BOOM, a new website recently profiled in ENTERTAINMENT WEEKLY Magazine, where music lovers can go to sample songs and compile their own mixed CDs right on-line. You can sample and include SKY BLUES, as well as a wide variety of independent talent, in your own custom-made compilation disc which will then be mailed to you. This is a great way to make your own mixed CDs and inexpensively sample new artists, so check it out.

SKY BLUES...IN TIME.
The compact disc on Captain Howdy Records is made up of 12 songs, and is 57 minutes and 31 seconds that we are extremely proud of. The critics have agreed...click to CLIPPINGS to read what they're saying.



The album's track list
is as follows:

UNTIL TOMORROW
ABOUT-FACE
WINTER DAY
SUBCONSCIOUSLY KIM
PEEPING TOM
CURTIS' SONG
ANOTHER DAY, ANOTHER DOLLAR
in the LONG RUN
SKELETON
ASHES
TIMELINE
TRACE THE LINES
The CD is available now at our live shows, by mail order and at selected record stores
(click to MERCHANDISE for ordering information).

SKY BLUES would also like to tell you about some of the worthwhile bands we have met and played shows with on the road, and we encourage you to check out their websites...
Check out MURPHY'S NEW YORK BAR GUIDE and EVENTS NY for all the hot music happenings in New York City!